The Port of Tucson is located in Century Park Research Center, Southeast of Tucson, Arizona.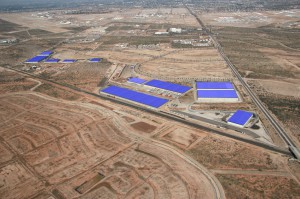 Within the 767 acres of  Century Park is over 1.8 million square feet of existing warehousing, distribution and manufacturing facilities available.
Build to suit with lease and purchase options are also available within Century Park.  Designated by the City of Tucson and Pima County as 'Shovel Ready', we can be responsive to quick turnaround times when looking for custom built facilities.
Century Park is also a designated and Active Foreign Trade Zone (FTZ 174, Site 2).  For companies that ship or receive goods internationally, there are tax and tariff benefits that can make your company more competitive in the global market.
If your operation requires access to rail transportation, we have existing and build to suit options for your company.
Contact us for more information about how Port of Tucson and Century Park can provide logistics and manufacturing facility options.